Compare Lightweight Vacuum Cleaners
If you are shopping for a lightweight vacuum cleaner you definitely have a lot of choices in a variety of price ranges. Most upright lightweight vacuums are good at one thing or they can be used to clean multiple surfaces but they really only perform well on one particular surface. Some light upright vacuums are very well made and will perform well on carpet. Straight suction compact canister vacuums are designed to clean smooth floors and areas of the house like a couch. Stick vacuums and steam mops are generally designed for quick clean up jobs in the kitchen or similar area of the home.
Lightweight vacuum are basically stripped down versions of full sized models. This keeps the weight of the vacuum manageable but this may limit some of the features that can be found in full sized vacuum cleaners. Compact canister vacuums are a bit more versatile than their upright counterparts and we will cover them on this site as well.
If you plan on buying an upright lightweight vacuum cleaner to clean a home that has a lot of carpet then Oreck, Simplicity, Riccar and Hoover offer the best quality lightweight vacuums that weigh 10 lbs or less. We have information on this site about which series and or models are currently available from these vacuum makers and some product descriptions and reviews to help you decide which model you may be best.
While most of the higher quality upright lighweights cost north of $200 there are several lower priced carpet cleaning models by Eureka, Dirt Devil and Hoover may be a better fit if you are on a budget.
Compact canister vacuums are another option for homes with limited or low pile carpet. Several vacuum brands make a number of models to select from that weigh about 12 pounds or less. Compact canister models may come with a powernozzle to clean carpet and or a floor brush for hard floors. Small canister vacuum cleaners also typically include some kind of small cleaning accessories like a crevice tool or a dusting brush. We have some very useful information on lightweight canister vacuum cleaners to help you find a model that will clean how and what you need.
Stick vacuums and hand vacs all have their place in the household as well. This site will cover some of the more popular models and point out some of the difference and potential uses.
This site covers the most popular, some highly rated and some of the less costly options available to the average consumer who wants to learn more about a light weight. We suggest that it would be in your best interest to check out some of the reviews at sites like amazon, cnet, consumers digest and other popular sources of vacuum cleaner related information so that you can explore all of the better cleaning options available. Even the vacuum stores can offer some biased but informative facts about some of the vacuums you might be considering.
Finding a Really Cheap Lightweight Vacuum
When do you buy a real cheap (I mean cheap not inexpensive) vacuum that's not to heavy? 1. If you're low on cash or don't like to spend much on a vacuum cleaner. 2. If you only change belts and bags and throw the vacuum away when you have any other type of problem. 3. Your home really doesn't get much foot traffic, and you don't have any animals that shed. If you fit one of these descriptions, then you can really save some money on your next vacuum purchase.
I would recommend you look into the Oreck commercial vacuums that are available online or the models Oreck sells at retail outlets like Target. They generally cost less than their full featured counterparts. Oreck is one of the few brands vacuum that I would suggest you buy used if it is from a reputable source. There isn't a lot that can go wrong with an Oreck upright vacuum if it were maintained or refurbished. You will probably see a fair amount of slightly used XL series uprights on ebay or vacuum cleaner store site and if a seller is reputable I would consider this as an effective way to save money without sacrificing quality.
If you need attachments, you won't find them on the Oreck. In this situation, I would consider the Dirt Devil FeatherLite, Eureka Optima upright or the Hoover Elite vacuum cleaner. A step down in quality from Oreck but you will find either one of these models should be sufficient in a home with low pile carpet that does not have pets.
The Optima vacuum by Eureka will probably be less expensive than the Hoover Elite. A major difference is the Eureka Optima is bagless, so you will probably need the replace the filter every 6 to 9 months to maintain maximum performance.
The Hoover Elite utilizes a vacuum cleaner bag. Over time, this will probably be less expensive than dealing with vacuum filters. The bags are fairly large, and you can fill them up about 3/4 of the way before you have to concern yourself with overfilling them and making a mess in the vacuum bag area.
You should be able to find the lightweight vacuums above for under $200 dollars. The Eureka Optima can be purchased at very cheap prices, and it's probably one of the least expensive vacuums you'll find. Both of these vacuums will require a little TLC (don't beat on them), and you should get a decent return on your money.
Common Lightweight Vacuum Design
Although most of the information in this section is available in pieces in various locations on this site it bares repeating. Most lightweight vacuum cleaners made by Oreck, Simplicity and Riccar share a very similar design. To minimize the size and weight of the vacuum they do not include any kind of cleaning accessories. These vacuums are usually sold as part of a set with the second vacuum cleaner being a small compact canister that can be carried around the home during use. These vacuum also are similar in other ways.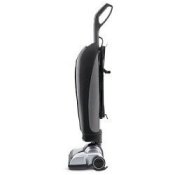 The lightweight vacuum brands mentioned above and other models like the Hoover Platinum, Hoover Elite and the Royal upright vacuum all locate the motor at the base of the vacuum. Debris is sucked into the vacuum as the roller beats the carpet. The debris enters the fan housing area and must pass thru the fan. That means any hard objects that have been removed from the carpet with the vacuum can potentially jam, chip or break the vacuum cleaner fan and potentially the plastic fan housing. It is also possible that an object can get stuck in this area, jamming up the fan. If you are operating the vacuum and this occurs the vacuum will make a buzzing noise. The sound is drastically different then you would experience during regular use. The vacuum should be shut off immediately.

The fact that the lightweight vacs mentioned above expose the fan to potential cleaning hazards is not a problem as long as you are aware of how the vacuum can be potentially damaged and you choose not to be reckless while you are operating one. Just be careful and do not take it for granted that the vacuum will pick up everything.