Electrolux Stick Vacuums
Electrolux makes some of the more durable and higher quality stick vacuums at the moment. The Electrolux Unirapido and the Ergorapido stick vacuum series are both bag-less, cordless and feature a 180 degree swivel cleaning head. There are several different models with different features included in these two stick vac series. If you have a chance to physically touch one at a store you will notice that they are more rugged than a lot of the other stick vacuum options currently available from other vacuum brands.
The Unirapido Electrolux stick vac is the more basic of the two stick vacuum series. Unirapido models features a 12 volts of battery drive power and a 1 liter dust cup to capture dirt and debris. It comes with filters but they are washable. The only difference we found with different Unirapido stick vacs was that color. If you want a very good but basic stick vacuum the Unirapido will be on of your better available options in terms of qualit and performance.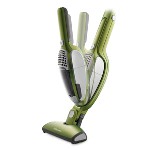 The Electrolux Ergorapido is actually a hand vac and a stick vac in one. This stick vacuum series also has a small vacuum hose and comes with a crevice tool and dusting brush. The Ergorapido series offers several models to select from. Electrolux makes a basic model and a few others that offer more power and an additional feature or two. The Ergorapido Ultra is a 12 volt machine as opposed to the 9.6 volts the more basic model offers. Some of the Ultra series come with a small headlight.
The Electrolux ErgoRapido Ion stick vac is the best of the series and cost quite a bit more than the other Electrolux 2 in 1 stick vacuums because it has 18V Lithium Ion batteries. This model can run longer and charge quicker because it includes the higher quality batteries. I would just recommend you consider how long you would actually use a hand or stick vacuum for and then make the decision on which model you would like. I would also recommend you visit a near bye Lowes or similar outlet that sells Electrolux vacuum to confirm that this is a stick vacuum you would be likely to use.
I think the Erorapido by Electrolux is a very good option for homes with small children. Most quick pick up situations in my experience are a result of the activities of you children. You can use a stick vac or hand vac to clean up the cheerios or other debris that always seems to find its ways onto a floor or wherever the children may snack in you home. Both models are good for cleaning a kitchen or a dry bathroom floor.