Oreck XL Upright Vacuums - Commercial vs. Residential
In a nutshell, the difference between Oreck lightweight commercial vacuum cleaners and it's residential models are minor. The Oreck XL series vacuum cleaner design hasn't changed a lot over the last 10 years or so that I've been working on them.
A commercial Oreck vacuum ( like the XL 2000 series (XL 2000, XL 2100, etc.) does not have a headlight. I don't find a headlight on a vacuum cleaner to be particularly important or all that useful, so I don't consider this difference to matter very much.
The biggest difference is the cord. Commercial Oreck vacums are thicker than there residential counterparts. The commercial cord is similar in quality to one of those orange extension cords you have sitting in your garage. Cord length between models may vary.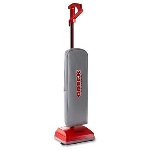 If you are looking to buy an Oreck lightweight vacuum for commercial use, I would recommend paying particular attention to the handle. You want the ergonomic handle with the on / off switch. This will quickly allow you to turn off your Oreck vac in case you pick up something you did not mean to. The commercial Oreck (or residential model) with the no-frills handle has the power shut off on the base of the machine, which is a nowhere near as convenient to use. There are actually quite a few different Oreck vacuum cleaners to choose from so it would pay to do your homework and visit some sites that provide consumer and customer reviews and try to narrow down which models have the features that you feel would be important.
That's about it. Any difference in performance is negligible. They both use the same Oreck vacuum bags, same vacuum belts, etc. Oreck commercial lightweight vacuums work as well as their domestically marketed counterparts so why spend more than you have to.
Oreck Vacuum Parts
While Oreck is a very popular vacuum brand name you will should not expect to find any replacement parts in supermarket or in a retail store. Just about any general vacuum store that sells supplies will carry canister and upright Oreck vacuum bags. The portable canister bags come in one size. You will notice terms like buster bee or Oreck housekeeper bags. Same thing. They both fit the portable canister models that accomanies the lightweight upright. As far as lightweight upright Oreck bags go there is the CC and the XL sized bag. The CC bag fits models that have a docking station. The bag slides into a plastic frame and then the frame is snapped close to secure the bag. The XL Oreck bag just gets placed onto the vacuum. Whenever you buy bags for your Oreck you would be better off buying genuine Oreck bags or a aftermarket brand that references the fact that it reduces the escape of allergens and debris.
The upright Oreck XL lightweight vacuums all use the same size belt so that should be easy to locate. Any other parts will almost definately need to be purchased at a vacuum store or online.
Oreck goes Retail
Oreck is selling vacuum cleaners at retail outlets. Years ago you could only buy an Oreck vacuum online or over the phone directly from the Oreck vacuum company or at one of their brick and mortar stores. It seems that Oreck has sold out their store owners a little bit by making Oreck vacs available at Target and similar stores. You will not see premium Oreck vacs in these retail shops but you will find very aggressive pricing and a decent vacuum for the price.
It is a common practice nowadays for a premium brand to make less expensive and ultimately lower quality products to appeal to a wider demographic of potential customers. Oreck was already making models in the two hundred dollar price range before that was the vacuum a store owner might only show you when you balked at a model with more features. The Oreck vacuum cleaners in retail stores are similar to the commercial models mentioned above. You are not getting the same Oreck as you see for hundreds more but you might not really need the features that can inflate the price of an Oreck vacuum. The retail models are bit stripped down on the features but a decent buy for a light vacuum none the less. If you would lke to buy one of the low priced Oreck vacuums online Ebay always has some vacuum dealers that make commercial and the more basici Oreck vacuums available to consumers at some very competive prices.