Simplicity Freedom and Riccar SupraLite Vacs
The Simplicity Freedom and the Riccar SupraLite are 2 of the best lightweight vacuum cleaners you have never heard of. They are both owned by the same company and have very similar features. The difference between the 2 brands is specific to the style of the vacuum, not the performance.
The Freedom and the Supralite are very reliable and powerful vacuums in the lightweight vacuum class (vacuums under 10 pounds). Simplicity claims that the Freedom out cleans the nearest competitor by 33%, and from what I've seen performance wise, I would have to agree. While Oreck vacuums are very good, I believe both of the these vacuums to be better.
Like most lighweight vacuums, you will not find attachments (a hose and cleaning wand) on either on the Supra Lite or the Freedom, and that's why they weigh approximately 8lbs., respectively. What you will find is a very aggressive cleaning machine that performs very well on various piles of carpet.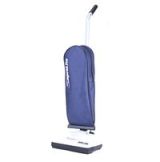 Simplicity and Riccar make very various light weight models within the SupraLite and Freedom vacuum series. Riccar for example has the more basic RSL1A and RSL1AC models, which feature a basic handle. The Riccar SupraLite RSL3, RSL4, and RSL5 vacuums features an ergonomic looped handle and other enhanced features. Simplicity Freedom models vary by model in a similar manner but all models from both series clean with the same level of effectiveness. They both use the same size vacuum bags and its easy to find
I have worked in vacuum cleaner stores that have sold the Riccar and Simplicity vacuum cleaner lines, and have found them to have minimal problems and require very little maintenance as compared to most major vacuum cleaner manufacturers. The other perk is that the price is fair because you are not paying for expensive advertising and promotional campaigns.
Simplicity and Riccar Vacuum Parts
You will probably end up buying bags or other supplies for a Simplicity or Riccar vacuum online or at the store you originaly made the vacuum purchase at. Belts should be replaced every 12 to 18 months to maintain cleaning effectiveness. There are 2 different types of vacuum bags made for each of these models. There is a synethic cloth hepa bag or an allergen trapping paper bag. The synethetic cloth bag is better but not absolutely necessary. Riccar owners will require the RSL6 or RSLH6 Riccar vacuum bags. Simplicity Freedom owners will use the Style F Simplicity vacuum bags. If you own a Riccar SupraLite or a Simplicity Freedom the Riccar RSL6 and Simplicity SF-6 are both paper and the same exact size. The Riccar RSLH6 and the Simplicity RSFH6 are both HEPA cloth bags and are also the same exact vacuum bag.